We're excited to see that users have successfully completed over 750,000 WebXPRT runs! If you've run WebXPRT in any of the more than 654 cities and 68 countries from which we've received complete test data—including newcomers Belize, Cambodia, Croatia, and Pakistan—we're grateful for your help. We could not have reached this milestone without you!
As the chart below illustrates, WebXPRT use has grown steadily over the years. We now record, on average, almost twice as many WebXPRT runs in one month as we recorded in the entirety of our first year. In addition, with over 82,000 runs to date in 2021, there are no signs that growth is slowing.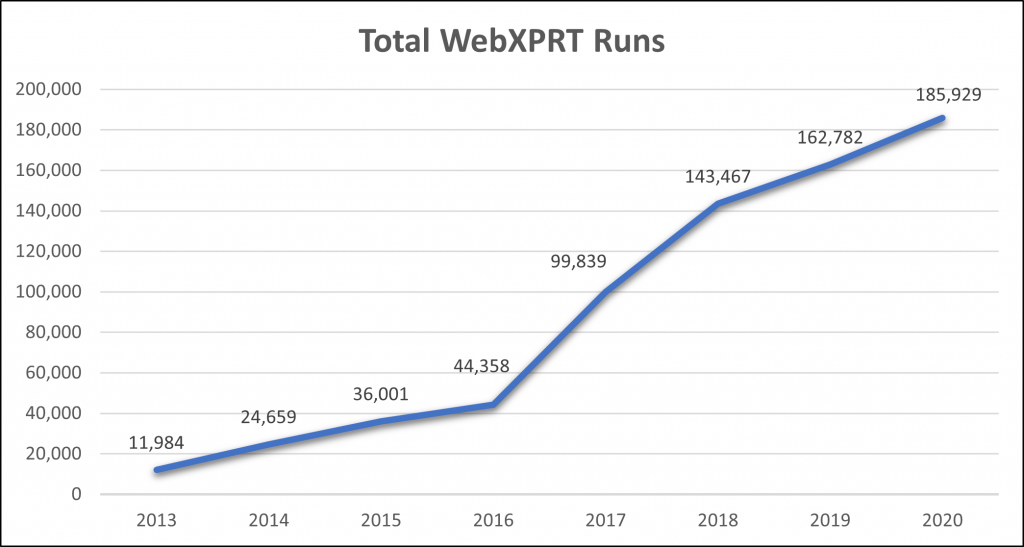 Developing a new benchmark is never easy, and the obstacles multiply when you attempt to create a cross-platform benchmark, such as WebXPRT, that will run on a wide variety of devices. Establishing trust with the benchmarking community is another challenge. Transparency, consistency, and technical competency on our part are critical factors in building that trust, but the people who take time out of their busy schedules to run the benchmark for the first time also play a role. We thank all of the manufacturers, OEM labs, and members of the tech press who decided to give WebXPRT a try, and we look forward to your input as we continue to improve WebXPRT in the years to come.
If you have any questions or comments about WebXPRT, we'd love to hear from you!
Justin