It's been two weeks since the CrXPRT 2 public release, and we're happy to see widespread interest in the test right out of the gate!
This week, we received a couple of questions about its battery life test from Melissa Riofrio at PCWorld. First, she asked for clarification about the relationship between the rundown time and the 30-minute increments that appear in the iteration details table for each battery life run. Second, she asked what could be causing her to get "N/A" and "test error" battery life results at the end of what appeared to be successful tests. Both topics may be of interest to other CrXPRT 2 testers, so we've decided to address them here in the blog and invite our readers to provide any relevant feedback.
Rundown time vs. elapsed time
When you're viewing previous CrXPRT 2 test results and click the Details link for a specific battery life test run, a window displaying additional test information appears (the screenshot below shows an example). The window first provides performance details, then presents a table with several data points for each iteration.
The data point in the far-right column, elapsed time, can be slightly confusing. Each test iteration runs for 30 minutes, and this column provides a cumulative total of these 30-minute increments. In some instances, these totals accurately reflect the actual time elapsed from the time that testing begins. However, if the test system shuts down for some reason before running the entire iteration, this table will still show the entire 30 minutes allotted for the that iteration. In these cases, the cumulative elapsed time value in the far-right column will not match the rundown time that the test reports for the system's battery life. For that reason, testers should always consider rundown time as the definitive value for battery life.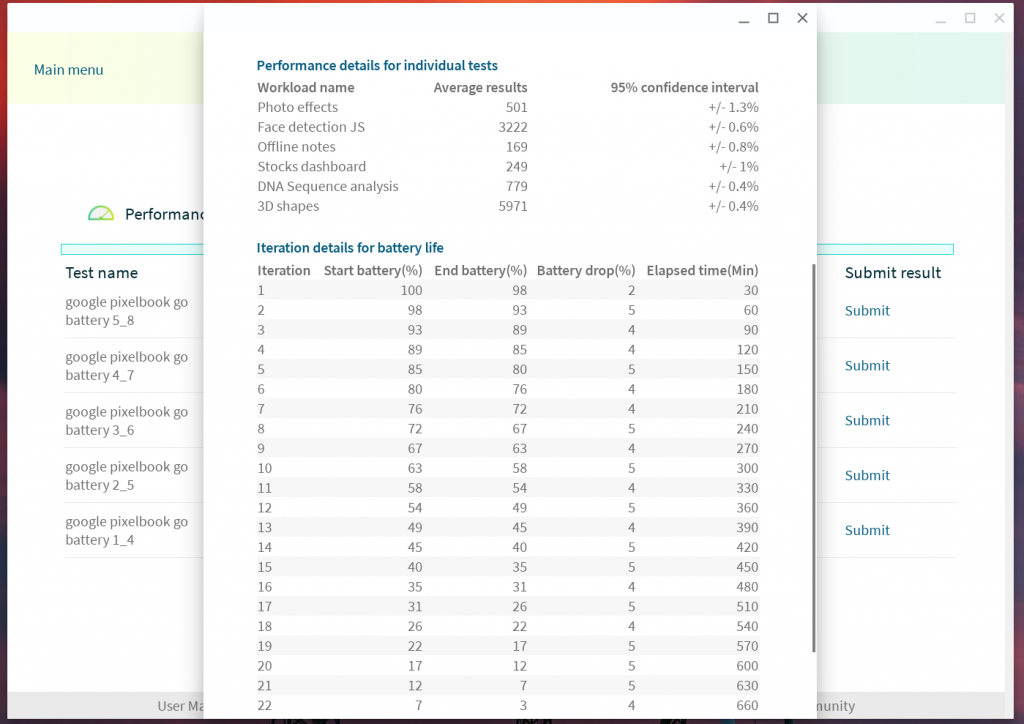 "N/A" and "test error" battery life results after apparently successful tests
We're actively investigating this issue at present. We've tested a wide range of Chromebooks, both old and new, on several versions of Chrome OS, including the latest versions, and have been unable to reproduce the problem. Have you witnessed this behavior at the end of a CrXPRT 2 battery life test? If so, we'd love to get more information from you about the system under test and your testing procedures, so please contact us.
We're grateful to Melissa for raising these questions, and we appreciate everyone's feedback on CrXPRT 2. Hopefully, we'll soon be able to determine the cause of the "N/A" and "test error" results and find a solution. We'll be sure to share that information here in the blog once we do.
Justin