From time to time, we like to run a series of in-house WebXPRT comparison tests to see if recent updates have changed the performance rankings of popular web browsers. We published our most recent comparison last October, when we used WebXPRT 3 to compare Windows 10 and Windows 11 browser performance on the same system. Now that WebXPRT 4 is live, it's time to update our comparison series with the newest member of the XPRT family.
For this round of tests, we used a Dell XPS 13 7930, which features an Intel Core i3-10110U processor and 4 GB of RAM, running Windows 11 Home updated to version 21H2 (22000.593). We installed all current Windows updates and tested on a clean system image. After the update process completed, we turned off updates to prevent them from interfering with test runs. We ran WebXPRT 4 three times each across five browsers: Brave, Google Chrome, Microsoft Edge, Mozilla Firefox, and Opera. The posted score for each browser is the median of the three test runs.
In our previous round of tests with WebXPRT 3, Google Chrome narrowly beat out Firefox in Windows 10 and Windows 11 testing, but the scores among three of the Chromium-based browsers (Chrome, Edge, and Opera) were close enough that most users performing common daily tasks would be unlikely to notice a difference. Brave performance lagged by about 7 percent, a difference that may be noticeable to most users. This time, when testing updated versions of the browsers with WebXPRT 4 on Windows 11, the rankings changed. Edge was the clear winner, with a 2.2 percent performance advantage over Chrome. Firefox came in last, about 3 percent slower than Opera, which was in the middle of the pack. Performance from Brave improved to the point that it was no longer lagging the other Chromium-based browsers.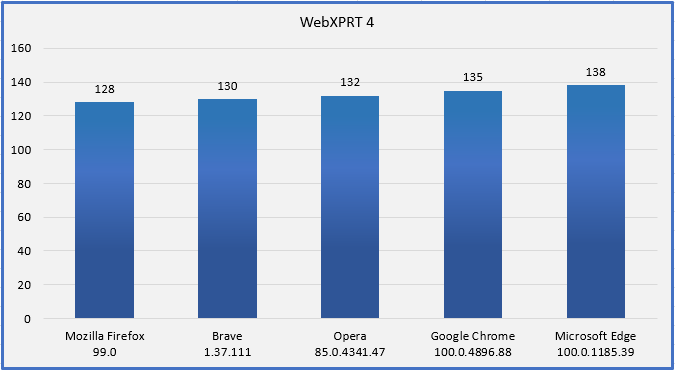 Do these results mean that Microsoft Edge will always provide you with a speedier web experience? A device with a higher WebXPRT score will probably feel faster during daily use than one with a lower score. For comparisons on the same system, however, the answer depends in part on the types of things you do on the web, how the extensions you've installed affect performance, how frequently the browsers issue updates and incorporate new web technologies, and how accurately each browser's default installation settings reflect how you would set up that browser for your daily workflow.
In addition, browser speed can increase or decrease significantly after an update, only to swing back in the other direction shortly thereafter. OS-specific optimizations can also affect performance, such as with Edge on Windows 11 and Chrome on Chrome OS. All these variables are important to keep in mind when considering how WebXPRT results translate to your everyday experience.
Do you have insights you'd like to share from using WebXPRT to compare browser performance? Let us know!
Justin