The XPRT Spotlight on the Apple iPhone 7 Plus gives us a great opportunity to look at the progression of WebXPRT 2015 scores for the iPhone line and see how hardware and software advances are often reflected in benchmark scores over time. This week, we'll see how the evolution of Apple's mobile CPU architecture has boosted web-browsing performance. In a future post, we'll see the impact of iOS development.
As we've discussed in the past, multiple factors can influence benchmark results. While we're currently using the iPhone as a test case, the same principles apply to all types of devices. We should also note that WebXPRT is an excellent gauge of expected web-browsing performance during real-world tasks, which is different than pure CPU performance in isolation.
When looking at WebXPRT '15 scores in our database, we see that iPhone web-browsing performance has more than doubled in the last three years. In 2013, an iPhone 5s with an Apple A7 chip earned an overall WebXPRT '15 score of 100. Today, a new iPhone 7 Plus with an A10 Fusion chip reports a score somewhere close to 210. The chart below shows the WebXPRT '15 scores for a range of iPhones, with each iPhone's CPU noted in parentheses.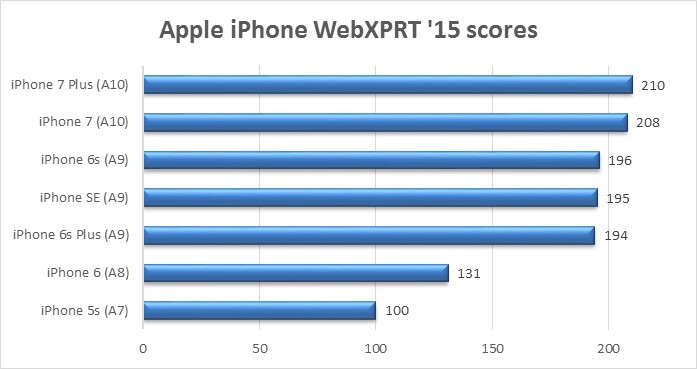 Moving forward from the A7 chip in the iPhone 5s to the A8 chip in the iPhone 6 and the A9 chip in the iPhone 6s and SE, we see consistent score increases. The biggest jump, at over 48%, appears in the transition from the A8 to the A9 chip, implying that folks upgrading from an iPhone 6 or 6 Plus to anything newer would notice a huge difference in web performance.
In general, folks upgrading from an A9-based phone (6S, 6S Plus, or SE) to an A10-based phone (7 and 7 Plus) could expect an increase in web performance of over 6.5%.
The scores we list represent the median of a range of scores for each device in our database. These scores come from our own testing, as well as from device reviews from media outlets such as AnandTech, Notebookcheck, and Tom's Hardware. It's worth noting that the highest A9 score in our database (AnandTech's iPhone SE score of 205) overlaps with the lowest A10 Fusion score (Tom's Hardware of Germany's iPhone 7 score of 203), so while the improvement in median scores is clear, performance will vary according to individual phones and other factors.
Soon, we'll revisit our iPhone test case to see how software updates can boost device performance without any changes in hardware. For more details on the newest iPhones, visit the Spotlight comparison page to see how iPhone 7 and 7 Plus specs and WebXPRT scores stack up.
Justin