The WebXPRT 2015 community preview hasn't even been out two weeks yet, but there are already hundreds of runs in the database. If you haven't checked it out yet, now is a good time! (login required)
As I mentioned last week, Bill and Justin are at Intel Developer Forum 2015 – Shenzhen. Here's their home away from home this week.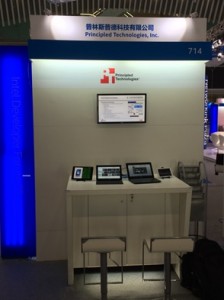 Bill and Justin have been having a lot of good conversations and have found a lot of interest in an open development community. We're looking forward to having even more members in Asia soon!
On Monday we released the CrXPRT white paper. If you want to know more about the concepts behind CrXPRT 2015, how it was developed, how the results are calculated, or anything else about CrXPRT, the white paper is a great place to start.
Finally, the MobileXPRT 2015 design document is coming in the next couple of weeks. What would you like to see in the next version of MobileXPRT? 64-bit support? New types of tests? Improvements to the UI? Everything is on the table. This is the time to make your voice heard!
Eric