As we get closer to the CrXPRT 2 Community Preview (CP), we want to provide readers with a glimpse of the new CrXPRT 2 UI. In line with the functional and aesthetic themes we used for the latest versions of WebXPRT, MobileXPRT, and HDXPRT, we're implementing a clean, bright look with a focus on intuitive navigation. The screenshots below show how we've used that approach to rework the home, battery life test, performance test, and battery life test results screens. (We're still tweaking the UI, so the screens you see in the CP may differ slightly.)
On the home screen, we kept the performance test and battery life test buttons, but made it clearer that you can choose only one. We also added a link to the user manual to the bottom ribbon for quick access.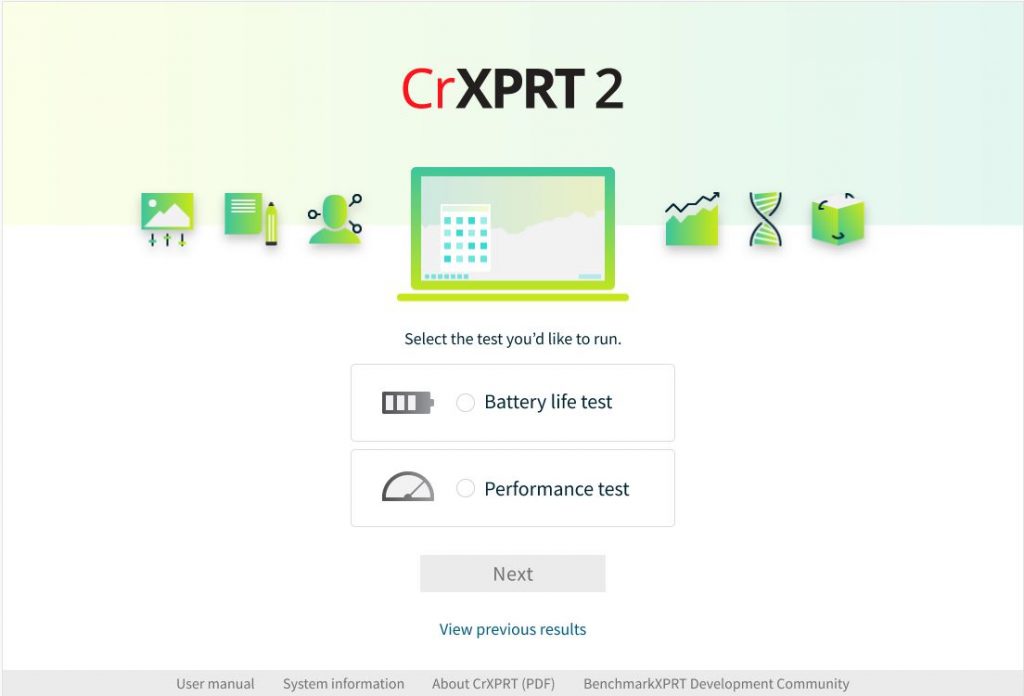 If you choose to run a battery life test and click Next, the screen below appears. The CrXPRT 2 battery life test requires a full rundown, so you'll need charge your device to 100 percent before you can start the test. Once you've done that, enter a name for the test run, unplug the system, and click Start. (Note that you no longer need to enter values for screen brightness and audio levels.)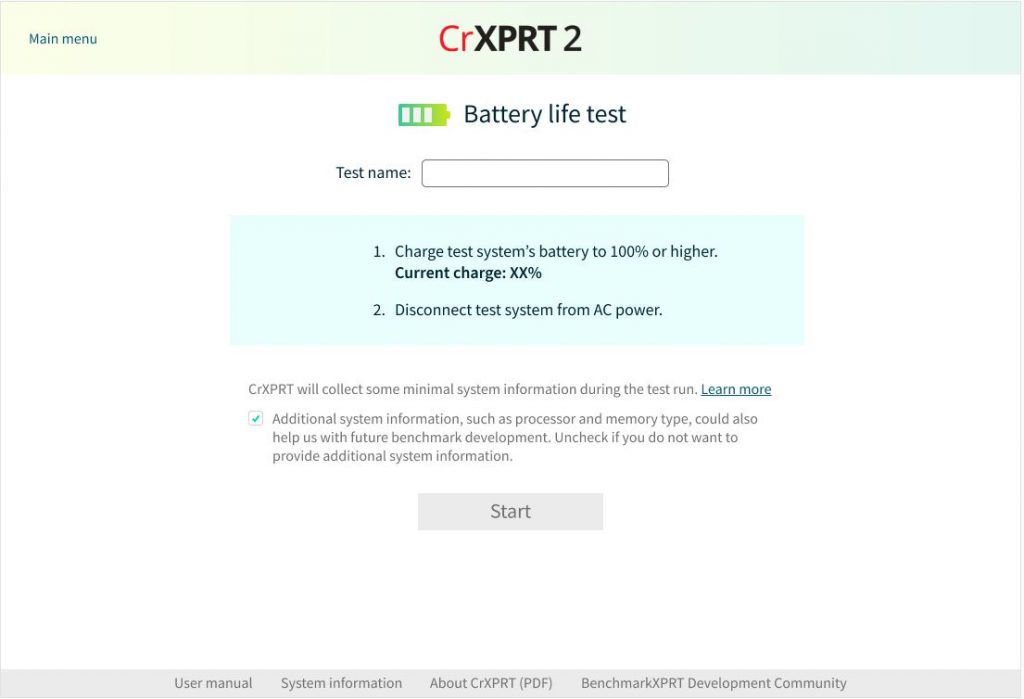 The CrXPRT 2 performance test includes updated versions of six of the seven workloads in CrXPRT 2015. (As we discussed in a previous blog post, newer versions of Chrome can't run the Photo Collage workload without a workaround, so we removed it from CrXPRT 2.)  To run the performance test, enter a name for the test run, customize the workloads if you wish, and click Start.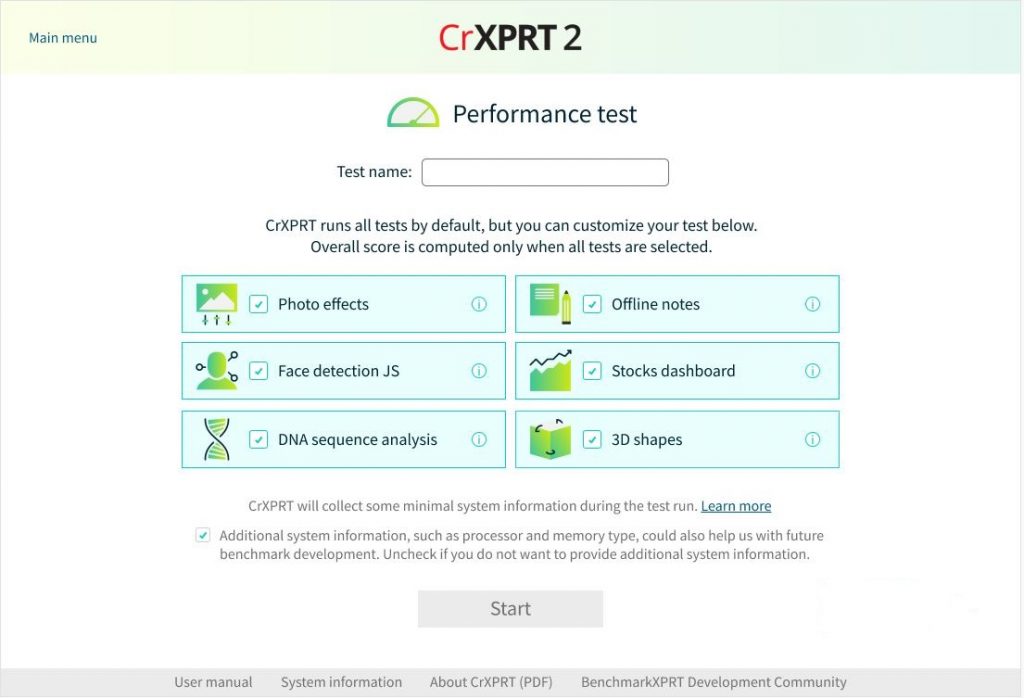 For the results screens, we wanted to highlight the most important end-of-test information while still offering clear paths for options such as getting additional details on the test, submitting results, and running the test again. Below, we show the results screen from a battery life test. Note the "Main menu" link in the upper-left corner, which we added to all screens to give users a quick way to navigate back to the home screen.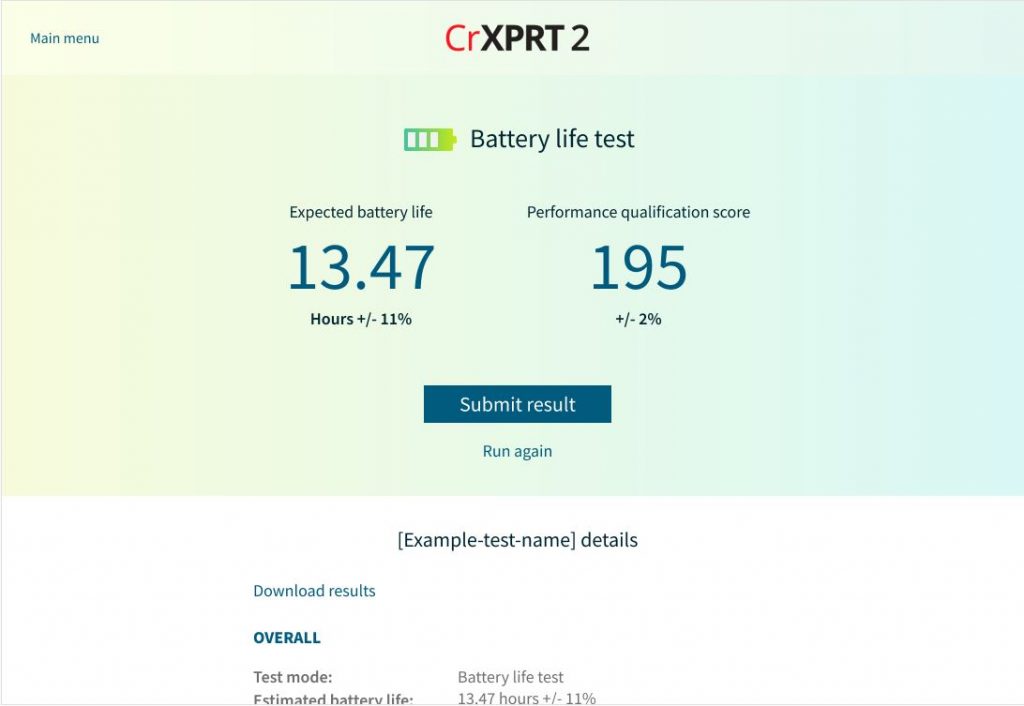 CrXPRT 2 development and testing are still underway. We don't yet have an exact release date for the CP, but once we do, we'll announce it here in the blog.
What do you think about the new CrXPRT 2 UI? Let us know!
Justin