The Martian Watch is an analog watch with a single-line LED that communicates with your smartphone (or tablet) using Bluetooth 4.0. I used my Martian Watch with an iPhone 5, but it also supports Android devices as well as IOS ones. The watch uses the LED to alert you to things like incoming calls, texts, and appointments.
Martian Watches come in multiple styles (Passport, Victory, and G2G) in differing colors. Mine is the Passport with a black leather band which costs $299. I only paid $115, however, as I was one of the early supporters via Kickstarter.
The OLED display is 16 pixels high by 96 pixels wide which works out to about 12 to 16 characters. I only call it an OLED because the manufacturer does. I've only seen it display in white and the characters (or symbols) are nothing special. I assume they used an OLED to save energy rather than make it look especially pretty. It looks like a normal LED.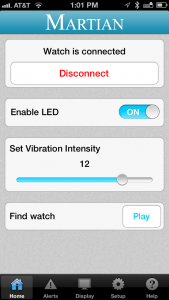 The watch includes a speaker and a microphone which allow you to use it as you might a Bluetooth headset. You can push the top button on the left to talk to Siri on an iPhone via the microphone on the watch. Siri responds using the speaker in the watch. My mother was blown away by me asking the watch (really Siri), "Where am I" and having it respond correctly with her address.
Pushing the bottom button brings up on the LED the status, followed by the date, and, optionally, the time in a particular city and the weather. The pair of buttons can be used in different combinations to do things like navigate through menus and reboot the watch.
The battery for the electronics lasts about a week, which is reasonable. I usually charged it on the weekends with the included micro-USB cable. The battery for the watch itself is supposed to last two years.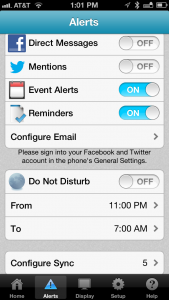 Generally, I really like the idea behind the Martian Watch. I think the traditional analog timepiece with the small LED screen make for a nice looking watch. The LED offers a good way to get alerts on your wrist, meaning there is no more awkwardly getting out your phone to check things like the time or who is calling. That can be particularly nice while driving if you don't already have the ability for your car to work with your phone directly.
The iPhone app is fairly well done and allows quite a bit of control over how the watch operates. Martian has been adding more control over over the watch and its features which I expect will continue over the coming months.
The Martian Watch also includes nice little features like Find Phone which allows you to cause your phone to play some musical notes (even if muted) so you can find it. The app has a corresponding feature to allow you to find your watch from your phone. Given how much time we all spending trying to find things, these can be very useful.
I wore the watch for about two months while experimenting with it. I found the notifications of texts, calls, and appointments very useful. Martian also claims the watch will work with Facebook (direct messages) and Twitter (mentions) though I did not try those features. I also did not try its email support—I did not need my wrist to constantly vibrate!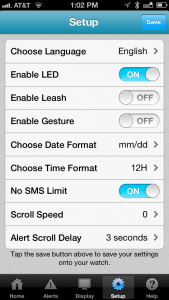 There were other features that I did not play with such as Gestures which allows you to decline a call by "lifting your arm straight up and turning your wrist firmly back and forth from side to side 3-4 times between vibrations", Leash which lets you know if your phone goes out of range indicating that you may have forgotten/lost it, and Camera Mode which allows the Martian Watch to act as a remote control for snapping photos/videos from your phone's camera.
During the time I've used the watch, I've had to upgrade the firmware (which improved things a decent bit from the first version) as well as the iPhone app multiple times. While I expect this from a gadget, doing those things may be a bit odd for folks thinking of the device as a watch.
I also encountered my share of problems, some of them certainly due to having an early version of the product. The watch sometimes got confused and had to be rebooted. (Is it just me or does everything in world seem to need rebooting periodically any more?) The wrong device sometimes acts as the speaker. For example, I tried to discretely listen to a voice mail in the bathroom by holding my phone tightly to my ear. For some reason, however, the message instead played out of the speaker on my watch. So much for discrete! I've had issues with the watch taking priority over my car's Bluetooth. I wish there were some way to set the priority of the devices or to say that I only want the watch to be the speaker/microphone at my request.
The watch is also bulkier than I would like, but that look seems to be popular. I had multiple younger folks (in their 20s) look at the watch, like it, and ask questions about it.
I wish the analog watch was settable by the electronics. Since it is not, your watch and phone can have different times. This also means going back to the old days of resetting the time when you change time zones.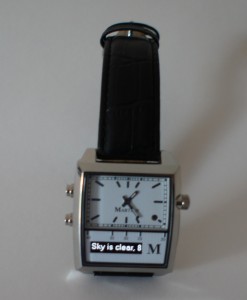 The watch also shows some silly implementation issues such as with the weather feature. Rather than giving the temperature first, it gives the description, which can be longer than the LED's width and require waiting for it to scroll. So, I just got "Overcast clou" and then had to wait for the "ds, 74⁰" to scroll into view. Martian addressed the issue a bit by having "S" stand for Sunny ("S, 82⁰"), but they could have put in a little more effort here.  After all, Sunny fits just fine! Further, I have not been able to figure out where the weather is for. I don't get the impression that it is specific to my location. I saw some reference on the support forums that it may be for the main city in your time zone, so mine might be for New York City.
I've also had my share of problems with the iPhone and text messages. I don't get all my texts. It may be that I'm only getting the ones that come from Apple's Message app, but sometimes even those don't seem to appear. I feel my iPhone vibrate, but nothing ever shows up on the watch. My understanding is that this may be Apple's fault, but that makes it no less annoying.
Generally, I wish that the Martian Watch was better integrated with my iPhone. Whenever the watch and my iPhone are reunited after being out of range, I have to touch the iPhone screen to allow them to reestablish communication. Another example is that rather than having the watch connect to my email server directly, it would be better for it to tie into the alerts on my phone. For example, I get way too many emails to have some notice every time one comes in. If it would just let me know when I get one from one of my favorites (like the iPhone will do), that might be useful. Again, this is probably at least partially Apple's fault, but it makes the watch less useful.
All in all, I like my Martian Watch and continue to wear it, though not all of the time. My experiences also give me hope for the future of such devices.