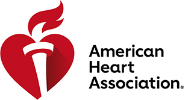 This eModule is an educational tool that aims to help heart failure (HF) patients and caregivers. This tool will help you understand the condition, navigate living with and treating HF. There are six key topics that can be done at your own pace based on your individual interests and priorities. Start today to learn about lifestyle changes, treatment options, ways you can be a more active member of your healthcare team and more.
Let's Talk About Heart Failure
The American Heart Association's National Heart Failure Initiative, IMPLEMENT-HF, is made possible with funding by founding sponsor, Novartis and national sponsor, Boehringer Ingelheim and Eli Lilly and Company.