HTML5 customer service training
Employees walk through a Hall of Fame using gallery map guides and other aids to discover superstar exhibits and interactive kiosks as they seek best practices for excellent customer service.
HTML5 online board game
This HTML5 game and its accompanying promotional teaser videos helped engage employees around the world. It was produced in seven languages.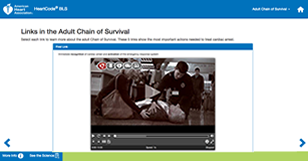 Engaging learning accessible by all
The American Heart Association partnered with Principled Technologies to produce WCAG-compliant learning solutions for those with hearing, vision, and motor impairment.
Sales training
It's a jungle out there, and some topics are too important for PowerPoint. This game on how to win proposals contains 10 challenging, real-world tasks, unlocked by the learner one at a time.
A really fun engagement survey
How do you make engagement surveys engaging? Integrating departmental leader boards allowed this anonymous survey engine to increase annual Engagement Survey completion to nearly 100% globally at this Fortune 500 company.
NGO training
This NGO employee orientation incorporates fun and engaging knowledge checks, videos, maps, narration, and stunning graphics. A travel theme allows users to create a passport to success.