Managing the rate of change in 2016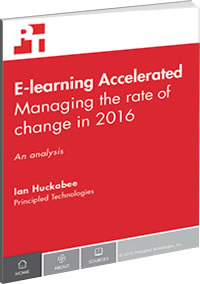 Managing technological change in e-learning is nothing new. But as learning ecosystems continue to rapidly expand, how prepared are we to manage the rate of change?
How are learning professionals re-engineering learning strategies across a landscape of rapid technological change?
What new e-learning archetypes are emerging as companies become stronger digital organizations?
How are new content habits and generational changes disrupting today's work environments, and how important (or unimportant) is the status quo?
This paper looks at learning content and effective, sustainable learning strategies in the context of perpetual change. Download it today.